Las Vegas is famous for its pool parties, but, whether you intend to actually get into the pool or not, every club in Vegas will have certain standards when it comes to expected attire, and, unless you follow these guidelines, you may end up sipping on your cocktail at the hotel lobby.
Arriving at the Party
Since you will usually need to walk through a hotel or a casino in order to get to the pool party, you need to ensure that you are wearing a cover-up over your bathing suit. If not, you will usually be stopped by security and denied further entry into the hotel until you have purchased something to wear over your swimwear.
Pool Party Attire for Men
Just like with the ladies, you should never expect to arrive at a pool party half naked, even if you are wearing your best board shorts. Make sure that you have a t-shirt on, and keep in mind that even though you are dressing casually, you still need to look smart, so avoid any baggy clothing such as sweatpants and oversized t-shirts. Wife-beaters are also always frowned upon, so be sure to leave yours in your suitcase.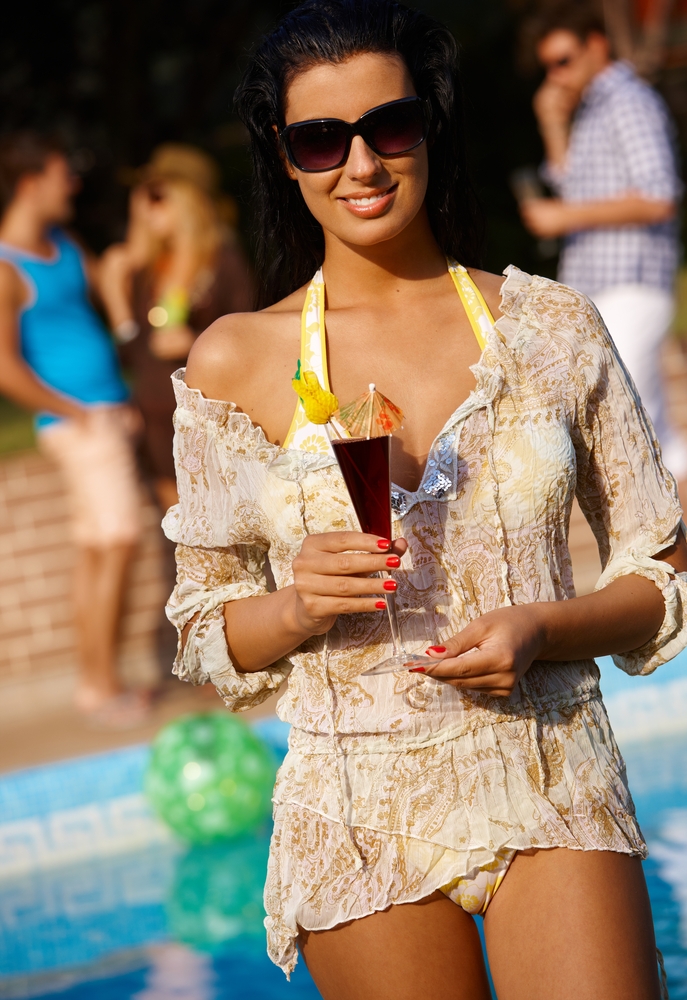 Pool Party Attire for Women
While it may be tempting to wear your favorite sequinned nightclub dress to a Vegas pool party, this is often frowned upon, as a bathing suit is usually the norm. Choose the flashiest and sexiest one that you have, but make sure that you throw a sundress or some shorts and a t-shirt over it. While a pool party may be casual, you should still be dressing to impress. Adding body jewelry, such as anklets or a belly chain, will give your look some instant Vegas glam, while incorporating some chain detail into your bikini is a subtle way to make your look a bit flashier.
Footwear
When it comes to footwear, simple is always best, especially if this is the first Vegas pool party that you are attending. Sandals and flip flops are the most common option for both men and women, although there are many women that choose to wear heels. If you want to do this, wedges are a great option to wear poolside.
Accessories
The sun can get extremely uncomfortable during a daytime pool party, especially in the summer months, so a sun hat and some sunglasses will help to keep you shaded. A small purse can also be useful, but don't go overboard and bring a large bag as you may be required to store it in a locker.
For those who have never attended a Vegas pool party before, deciding what to wear can be quite intimidating. There are always bouncers at pool parties who have the right to deny entry if you have not adhered to the dress code, but if you follow these guidelines, you should not have any problems. The most important thing to remember is to keep it casual but smart, and, just like you would do anywhere else in Vegas, always dress to impress.