Discover the advanced formula of the 24K Nano Collection. Carefully formulated to improve the appearance of aging skin this luxurious collection provides rich, hydrating effects provided by super ingredients like seaweed, sodium hyaluronate and almond oil to smooth out uneven skin texture, minimize the appearance of fine lines and thin, dry skin while also leaving a natural luminescence.
This Collection Is…

24K Nano Hydra Silk Mask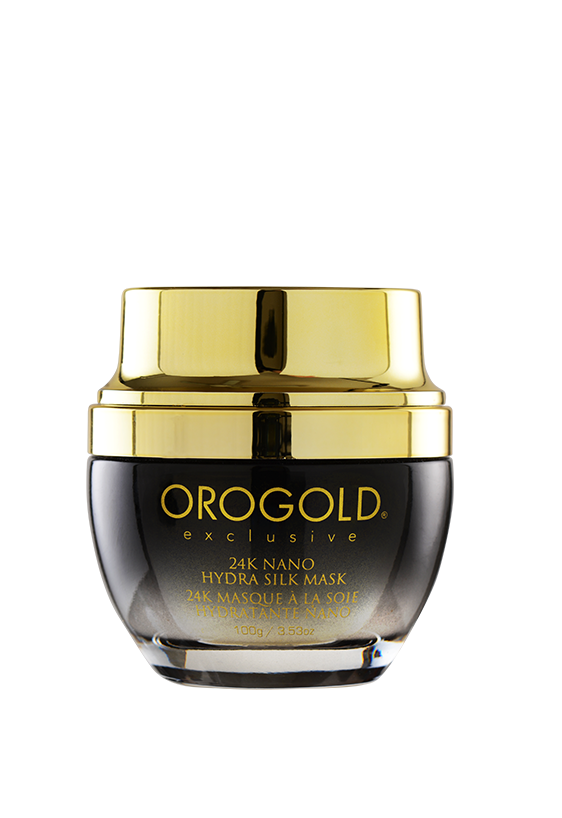 The Hydra Silk Mask is designed to be used once a week over a clean dry face. Rub a small amount of mask into your skin until liquid droplets form. Let the droplets absorb into your skin for at least 10 minutes before continuing the rest of your skin care routine. Do not rinse.
This amazing mask is truly one of a kind in the skin care industry. Both pampering and refreshing, this amazing formula is packed with gold and a combination of our key ingredients. The cream formula spreads onto the skin and immediately begins to form dewy droplets on the surface. One use will leave your skin feeling silky and looking radiant.
Sodium Hyaluronate, Acai Berry Extract, Goji Fruit Extract
24K Nano Day Recovery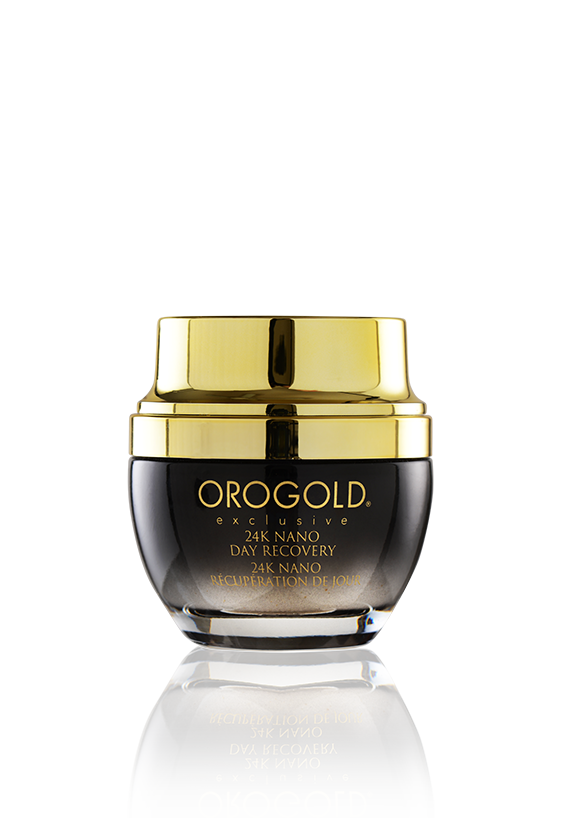 Apply 24K Nano Day Recovery to cleansed face and neck area, daily.
The 24K Nano Day Recovery is a gel-like cream. It is lightweight and absorbs quickly into the skin. The formula is designed to refresh tired and dull looking skin. Daily use lessens visible puffiness and inflammation, while enhancing the complexion.
Avocado Oil, Retinyl Palmitate, Seaweed Extract
24K Nano Night Recovery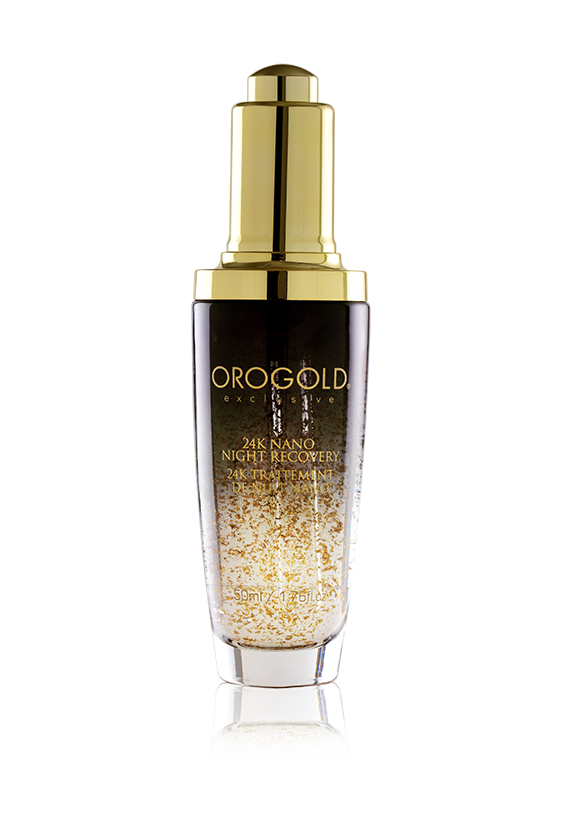 Apply the 24K Nano Night Recovery once per week at night to cleansed skin. Smooth several drops gently all over the face and neck area.
The luxurious 24K Nano Night Recovery is a concentrated elixir that is bursting with nutrients, essential oils, and our signature ingredient, gold. It spreads over the skin in a decadent layer, and then is absorbed fully as you sleep. The serum pampers the skin so you awake feeling refreshed.
Acetyl Hexapeptide-8, Gold, Green Tea Extract
24K Nano Ultra Silk Serum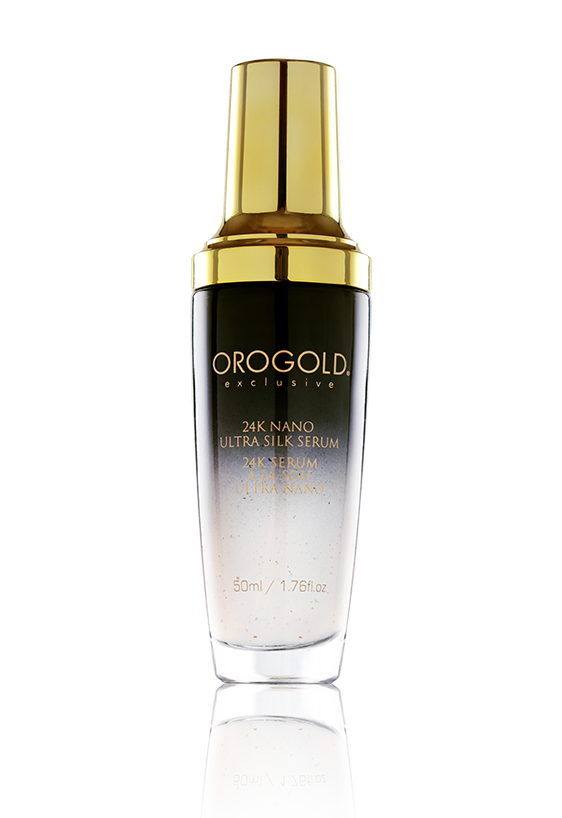 Apply the 24K Nano Ultra Silk Serum over a freshly cleansed face in the morning or evening.
Our most potent formula, the 24K Nano Ultra Silk Serum is a waterless serum that works to restore lost looks. This restoration improves the appearance of wrinkles and expression lines, while delivering needed nutrients topically to the skin. This serum is designed to pamper your skin over a longer period of time. This allows the ingredients to function so the effects are more long-lasting.
Sunflower Seed Oil, Seaweed Extract, Tetrahexyldecyl Ascorbate
24K Cleopatra Nano Regimen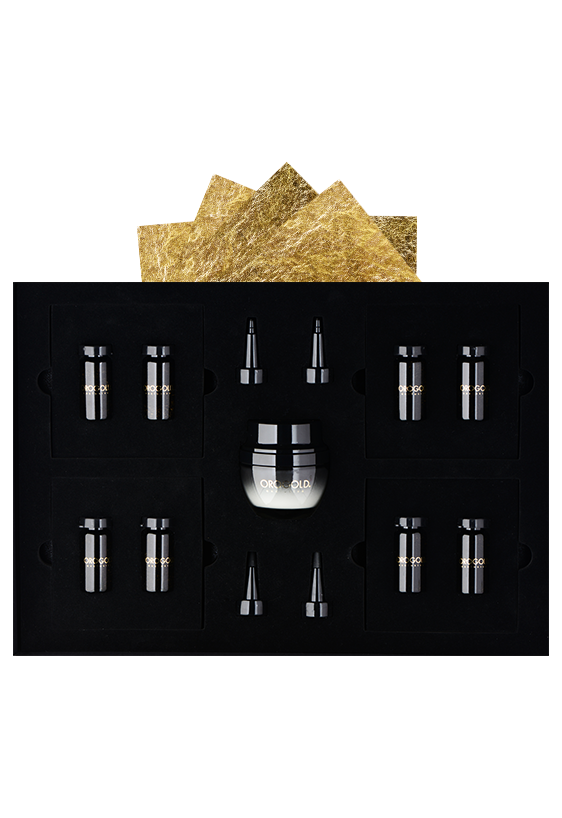 1. Cleanse your face with a gentle cleanser.
2. Apply the 24K Cleopatra Nano Silk Cream, massage gently until the product disappears completely.
3. Apply the 24K Cleopatra Gold Sheets. Each envelope consists of 3 sheets that should be applied on the forehead, left side and right side of the face. You may also split the sheets up to apply to those areas and the neck area. Each gold sheet comes with a protective covering that allows you to apply the sheet directly onto skin. Do not touch the gold sheet while applying.
4. Leave the gold sheets on for approximately 20 minutes.
5. Apply the 24K Cleopatra Nano Serum on top of the sheets. Massage gently until the gold disappears. To use the serum, remove the lid and replace with plastic dropper. Remove the plastic cap and squeeze dropper.
Use the compressed pads provided with the product to remove leftover residue from your face.
Apply the 24K Cleopatra Nano Silk Cream to complete your 24K Cleopatra Nano Regimen.
We recommend visiting your nearest OROGOLD store for your first 24K Cleopatra Nano Regimen treatment. Our experts can show you how to use this regimen and add it to your skin care routine. The 24K Cleopatra Regimen is designed to be used on a monthly basis together with the 24K Nano Collection for best results.
Take a leaf out of Cleopatra's book of beauty secrets with our 24K Cleopatra Nano Regimen. The regimen beautifully fuses modern skin care treatments with ancient beauty secrets to give you an outstanding combination of products that treat your senses to a skin-pampering blend of luxe ingredients. The 24K Cleopatra Nano Regimen consists of three products, the 24K Cleopatra Nano Silk Cream, 24K Cleopatra Nano Serum and the coveted 24K Cleopatra Gold Sheets.
Panthenol, Palmitoyl Tripeptide-1, Acetyl Hexapeptide-8