The magnificent 24K Cryogenic Collection produces spectacular results in giving tighter and more contoured looking skin around the face, eyes, and neck. This collection offers ingredients including gold, caffeine, alpha-hydroxy acids, green tea, shea butter and vitamins. This collection will revitalize your skin by creating a complexion that looks healthy and vibrant.
This Collection Is…

24K Cryogenic Restoration Cream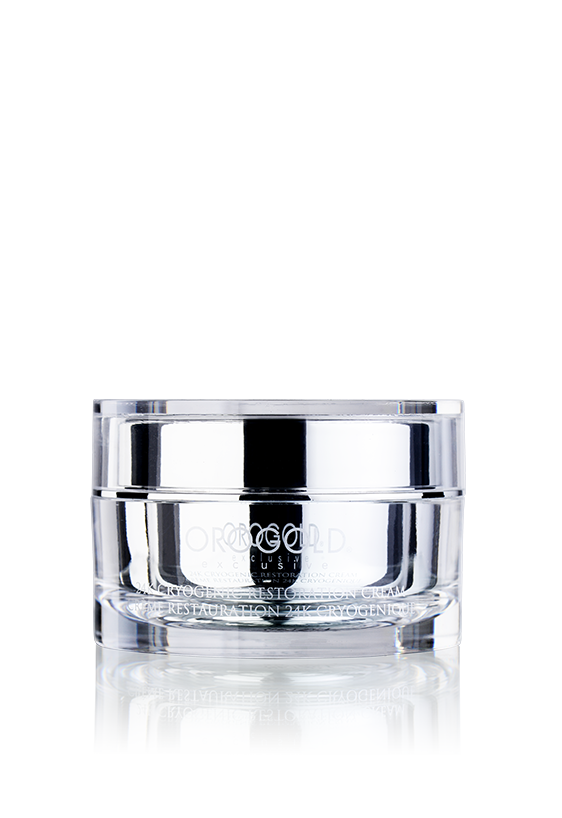 Apply a small amount of 24K Cryogenic Restoration Cream to skin in a circular motion until fully absorbed.
If you've ever dreamed of achieving a more radiant and youthful appearance while pampering your skin, try the 24K Cryogenic Restoration Cream. This lovely moisturizer combines gold with alpha hydroxy acids, along with a bevy of other ingredients, to provide your skin with the nurturing it needs to look healthier and more vibrant.
Spilanthes Acmella Flower Extract, Retinyl Palmitate, Sodium Hyaluronate
24K Cryogenic MagnoLift Mask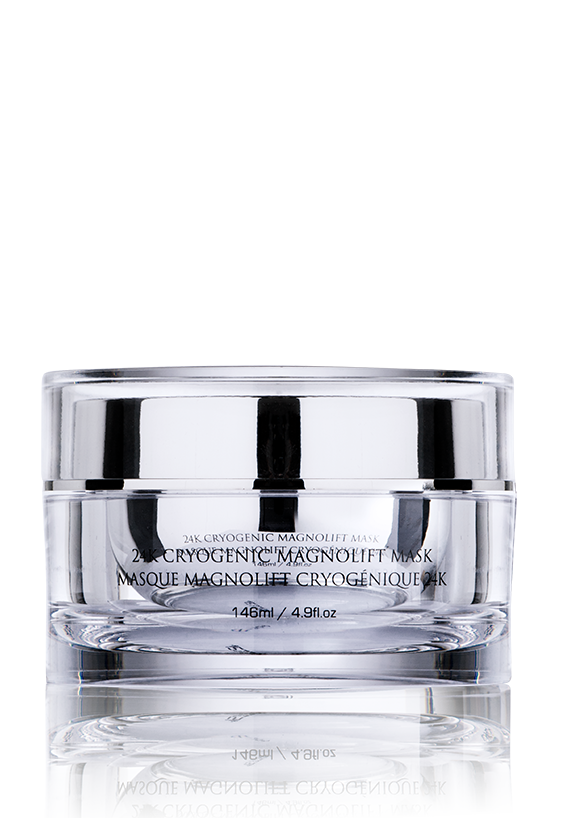 Gently apply an even layer to clean skin. After 5 to 10 mins, insert the provided magnet into its sachet and hover closely to your skin. Allow the mask to be lifted away. Once the mask is fully removed, massage the remaining oils into the skin. Rinse clean to remove any residue. This mask is best used in conjunction with the 24K Cryogenic Diamond Gommage.
The 24K Cryogenic MagnoLift Mask combines luxury ingredients like gold and diamond dust with skin-nurturing oils and vitamins for a high-quality formula. This cooling mask optimizes the latest skincare technology to diminish the appearance of skin aging.
Sunflower Seed Oil, Rosemary Leaf Extract, Cannabis Sativa Seed Oil
24K Cryogenic Contour Eye Firming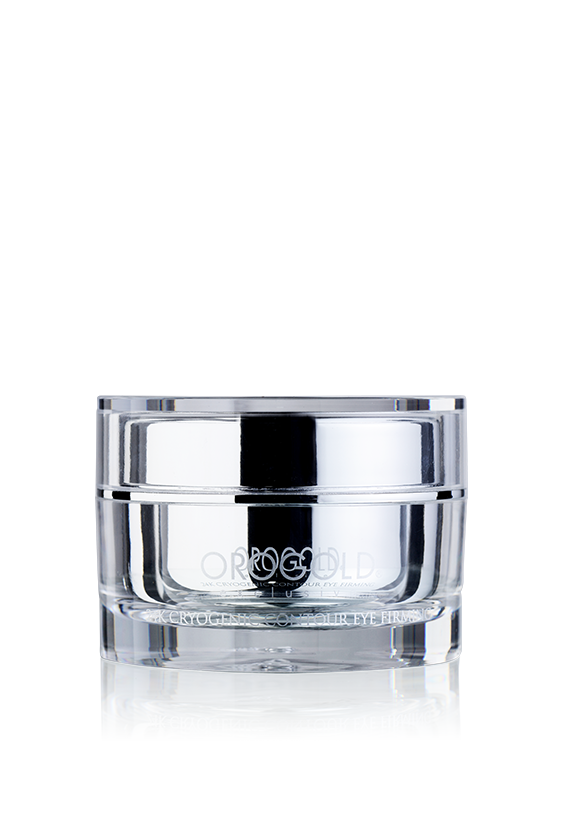 Using your ring finger, gently tap 24K Cryogenic Contour Eye Firming around the eye area. Pay special attention to applying product on areas of concern like wrinkles or under eye bags. Continue the gently tapping motion until product is no longer visible.
The 24K Cryogenic Contour Eye Firming delivers an intensive firming appearance for more youthful-looking eye contours. Specifically formulated for delicate skin around the eyes, this blend helps minimize the appearance of fine lines and wrinkles. The key ingredients have been shown to promote improved circulation, which can help greatly reduce the appearance and intensity of dark eye circles.
Caffeine, Green Tea Extract, Soluble Collagen
24K Cryogenic Pearl Revival Elixir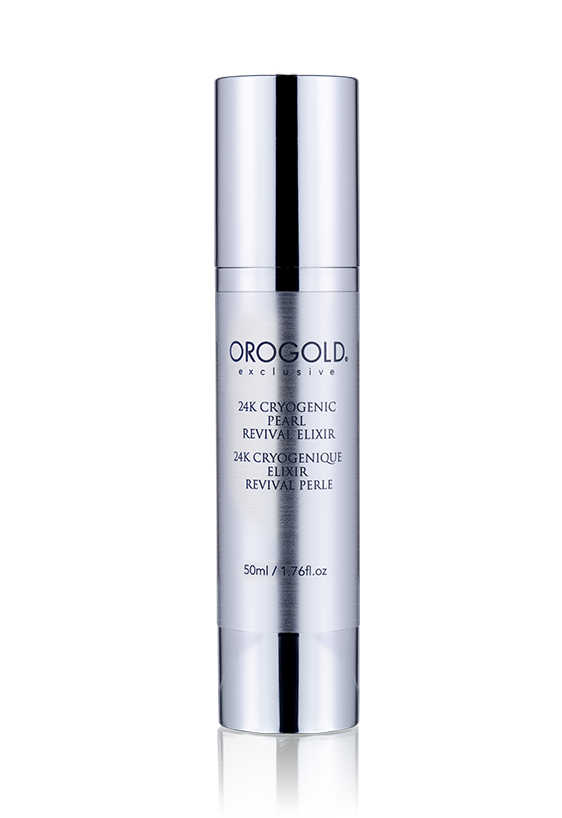 Massage in circular motions until all spheres dissolve. Apply on clean skin and follow with the 24K Cryogenic Restoration Cream.

A breakthrough solution to leave you feeling renewed and revitalized, the 24K Cryogenic Pearl Revival Elixir is combined with anti-aging peptides and vitamins A and E. This smooth elixir illuminates and freshens.

Acetyl Hexapeptide-8, Hyaluronic Acid, Retinyl Palmitate

24K Cryogenic Diamond Gommage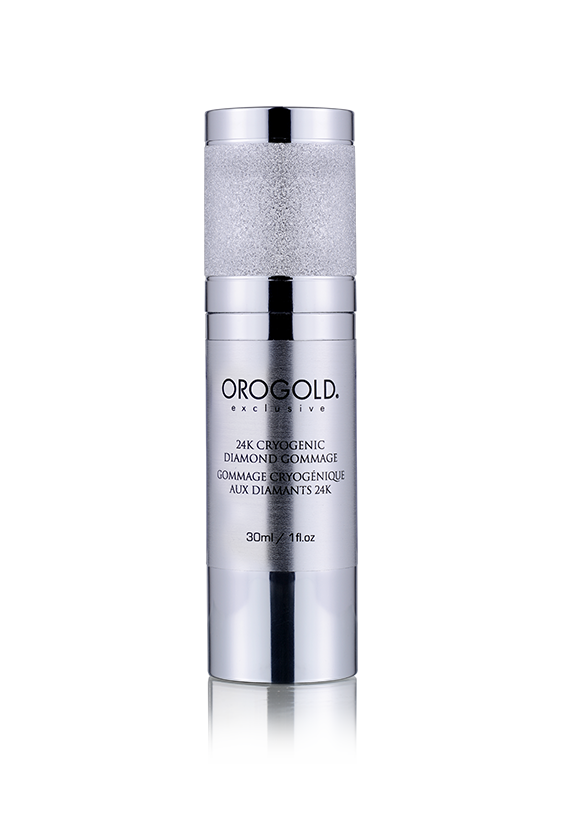 To use, apply to clean, dry skin, massaging into face and neck, while avoiding eye area. After fully-absorbed, follow with 24K Cryogenic Restoration Cream.
24K Cryogenic Diamond Gommage is a powerful anti-aging serum that will help restore smoother, balanced brilliance and a more youthful appearance to your skin. This silken gel elixir glides onto your skin to deliver highly potent peptides and supercharged antioxidants. Vitamins A, E, C and green tea with Centella Asiatica, and real gold and diamond dust balance your complexion, giving you a luxurious boost in luminosity.
Palmitoyl Tripeptide-1, Palmitoyl Tetrapeptide-7, Seabuckthorn Fruit Extract