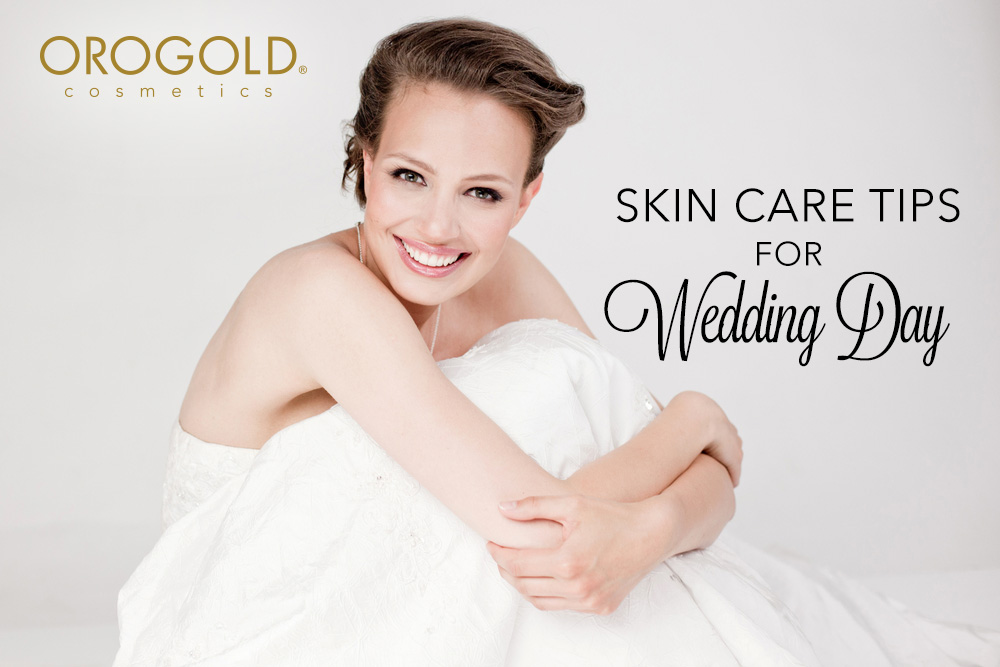 With your wedding day fast approaching, you probably have a million things on your mind. Worrying about the cake, the guests, the catering, and the last minute honeymoon plans are all probably front and center on your mind. When it comes down to the nitty gritty, though, are you really ready? If your skin care isn't on point, the answer is no. OROGOLD has some tips on the skin care methods you should incorporate into your actual wedding day routine, giving you a flawless look – for both the bride, and the groom.
For The Bride to Be
Exfoliate
Facial exfoliation is so important, and now is the time to look renewed, refreshed, and radiant. Giving your skin a quick exfoliation before cleansing will offer plenty in terms of removal of dead skin, helping new skin cells regenerate, and allow your skin to really glow. In terms of whole body exfoliation, from the neck down, feel free to use a gentle body scrub, and make small circles all over your body to remove excess dry, dead skin, and bring your skin to life.
Cleanse and Moisturize
One of the best things you can do on your actual wedding day is start the day off right with a flawless face. How better to do that than to cleanse and moisturize? Ensure you use a gentle cleanser – one which you have been using for the past six months, hopefully – to remove all dirty, oil and debris from your skin. This will ensure you won't have any sort of breakout or reaction from the product itself, and will provide the makeup artist with a beautiful, flawless canvas to work with. Moisturizing is just as important to ensure your skin appears well hydrated, and without any pesky rough, dry, flakey spots, which can look exceptionally unbecoming. Always, always be sure to use products specific to your skin type to ensure you receive the benefits of the product rather than exacerbate any ongoing problems or even create problems that didn't exist in the first place.
Tweeze or Wax
If you see any stray hairs either in your brows, above your lip, or on your chin, pluck them. You don't need any little hairs getting in the way of your potentially flawless beauty. Rather than having pictures taken with those pesky little hairs getting in the way, remove them from the root and call it a day. Well, not quite. You still have a wedding to attend to!
Shave
What could be sexier than smooth, silky legs? Don't forget this essential step on your big day, so you can show off those stunning legs in your dress and flaunt what you've got. Let's not forget the armpits, either, ladies! And if you shave your lady bits, now might be a good time to ensure that area is well taken care of, as well.
Bathe
You've made it so far! You deserve a long, glorious soak in a hot bath infused with your favorite scented essential oil and milk. Milk proteins soften the skin, and the essential oils added to the bathwater will help invigorate your senses and ease your mind. It's your day – you've earned it!
Moisturize Your Whole Body
Apply a thick, creamy moisturizing body lotion all over your body. Opt for one with a shimmery glow to it to look extra special for your big day. No princess is complete without a little glam. Do it up, and shine!
Pedicure and Nail Care
You want your nails and toes to look perfect and beautiful on your big day. Hire an expert who will come to your event and do your nails and toes right there on the spot, so you won't risk chipping, breaking, or messing them up in any way. Opt for something neutral in color, if you are choosing to get colors, such as nude or white tips. Keep it simple and glamorous.
Lip Care
Until your lipstick, gloss or liner is applied, be sure to moisturize your pout with a good lip balm before the big kiss. Use it throughout the day to infuse plenty of moisture into those lips, rendering you irresistible!
For the Grooms
Shave
This is an essential step in looking your best and making a great, lasting impression on your big day. If you've been growing a beard or moustache, now is the time to decide if you want your bride's extended family meeting you while you look like Grizzly Adams. Attack that face in the best way with a multiple bladed razor. Opt for a 5 blade for perfection.
Cleanse & Moisturize
Even men need to clean and moisturize their facial skin. By cleansing your face, you are removing impurities from the night before (and, let's face it, Heaven knows where your face may have been during your Bachelor party. None of us probably want to know!) as well as dirt and oil which had accumulated overnight. Moisturizing your skin will ensure you look radiant, your skin looks healthy, and it will be touchably soft for the lucky lady.
Shower
Fellas, this isn't an option. Please, shower – and do it well. Feel free to use a loofah in the shower or an exfoliating scrub to remove dead, dry skin and bring out the best skin you've ever had. You'll be amazed at the difference it can make.
Touch up the 'Brows
Now, this isn't something you are probably used to – and we don't want you to overdo it – but touching up your brows a bit and minimizing the unibrow wouldn't hurt. Cleaning them up a bit will do a lot for your face, and impress your lovely bride to be.
Opt for a Manicure
Men have taken to the idea of getting a manicure more and more over the years, and with it's increasing popularity, have come new innovations in nail care for men. Opt for a manicure to trim, file, and smooth out your nail beds – leaving behind hands she won't be embarrassed to hold.
Don't Be Afraid to Use Makeup
If you have scars, blemishes, or other unsightly areas in which you feel a bit self-conscious about – don't be afraid to use a little concealer to cover some of those problem areas up. If you do it right, nobody will notice you are wearing it – and nobody will notice the areas you don't want them to see, either.
Moisturize Your Lips
The magical kiss that joins man and wife is less than a few hours away, and you will want your lips to be soft, gentle, and inviting. Use a good lip balm to infuse them with moisture before the big moment arrives.
OROGOLD wishes you all the best on your big wedding day, and we hope this article helps you bring out the best your skin has to offer. Congratulations on your wedding, and stay golden!