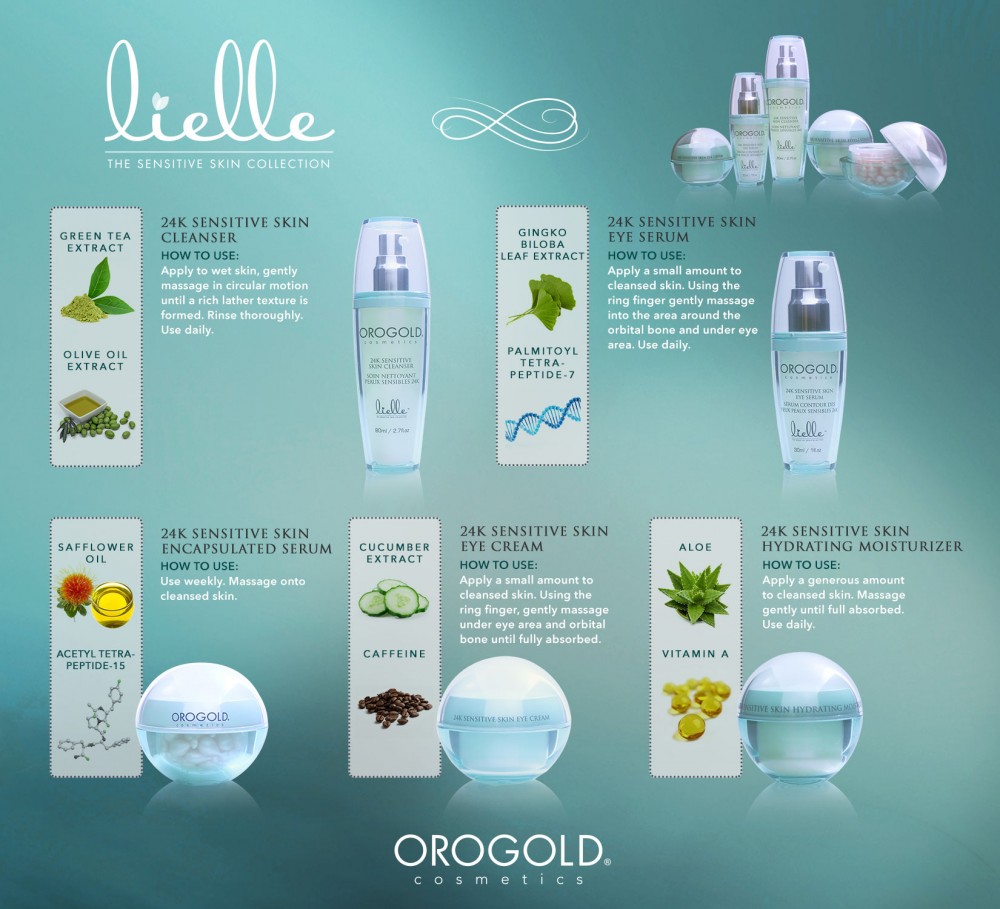 When it comes to choosing products for sensitive skin, the search can be extremely frustrating. Not only do many of the synthetic ingredients irritate delicate skin, but the added fragrances mean that you never actually know all of the chemicals that have been used. This is what led OROGOLD to develop the Lielle 24K Sensitive Skin Collection, a fragrance-free collection that has been formulated with soothing yet effective ingredients. Read on to see how you can use the Lielle Collection to take care of all of your skin's needs in just a few simple steps.
Step 1: Cleanse
Those with sensitive skin should be careful about cleansing too often, as this can not only be drying on your skin, but will also strip away your skin's natural oils, which it needs as a defense against the environment. OROGOLD recommends cleansing each night, as this will clean away the dirt and oil that has built up over the day, allowing your skin to renew itself while you sleep. Try using the 24K Sensitive Skin Cleanser, a gentle cleanser that contains ingredients such as olive oil and green tea. Olive oil helps to hydrate the skin while green tea extracts give it a boost of antioxidants to help the cells renew overnight.
Step 2: Eyes
The skin around the eyes is much thinner than the rest of the face, and if you have sensitive skin, you need to take extra good care of this fragile area. After cleansing, apply the 24K Sensitive Skin Eye Serum. The formula for this product contains peptides, which are an extremely effective skin care ingredient and work by coaxing your skin to boost the production of collagen – the protein that gives your skin its smoothness and firmness. After the serum, apply some of the 24K Sensitive Skin Eye Cream, which contains ingredients such as cucumber extract and caffeine, both of which are essential for eye care. Cucumber extracts soothe and hydrate your skin while caffeine reduces puffiness and brightens up the skin.
Step 3: Moisturize
The final step in your sensitive skin care routine would be to use the 24K Sensitive Skin Hydrating Moisturizer. This delightful moisturizer contains vitamin A, which is famous as one of the most proven and most effective skin care ingredients out there, with decades of research and studies to back it up. The aloe vera present in the moisturizer is famous for its anti-inflammatory properties that will assist in calming the skin and reduce any inflammation, as well as giving it a boost of hydration.
A Weekly Treat
In addition to containing all of the products that you would need for your daily skin care routine, you will also find the 24K Sensitive Skin Encapsulated Serum in the Lielle Collection. This is designed to be used weekly, and has some truly beneficial ingredients. Safflower oil is now being used for its anti-aging properties, while the peptides that are used can only be found in the highest quality skin care products.
Taking care of sensitive skin does not need to be difficult. The right products will ensure that your skin does not get irritated, and will use gentle yet effective ingredients to give your sensitive skin the best care possible.