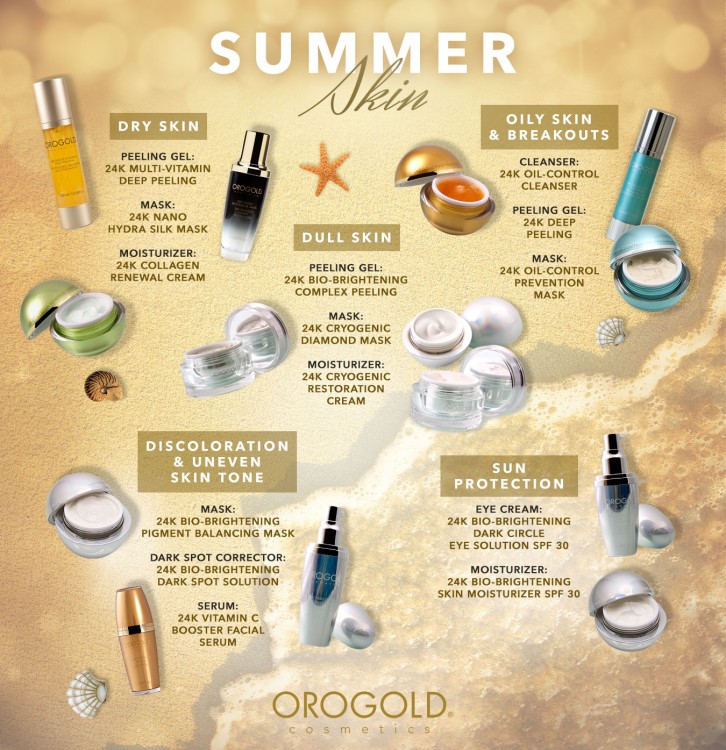 The intense heat from the summer sun can play havoc on the skin, which is why it is vital that you take good care of it during these summer months. Your skin care routine needs to be adapted from the one you were using over winter, as your skin will require different levels of nourishment during this warm season. Here at OROGOLD, we have put together all of the products that you could need to combat any of your summer skin worries.
Dry Skin
Dry skin is a common problem in the summer, as the heat and humidity suck out the moisture from your skin. The OROGOLD 24K Multi-Vitamin Deep Peeling Gel, used once a week, will help to give your skin the cleansed look that it needs, removing the look of sweat, oil and bacteria that would have built up in your skin. For even better results, the OROGOLD 24K Nano Hydra Silk Mask should also be used once a week, to give your skin a boost of hydration and nourishment. Since UV radiation speeds up the breakdown of collagen in your skin, the OROGOLD 24K Renewal Cream is ideal as a daily moisturizer, helping to restore an elastic appearance.
Oily Skin and Breakouts
Breakouts are definitely not what you want when you are baring your skin this summer, so it is time to get that oily skin under control. The OROGOLD 24K Oil Control Cleanser should be used every day, to cleanse your skin off the excess oil. However, with oily skin, more intensive treatments often work best, which is why we recommend the OROGOLD 24K Oil Control Prevention Mask, as well as the 24K Deep Peeling Gel.
Dull Skin
A dull complexion is often caused by the build-up of dead skin cells in your pores and on the outer layer of your skin. The best way to give your skin the deep cleaning that it needs is through the use of a good mask, and we recommend the OROGOLD 24K Cryogenic Diamond Mask, which contains diamond dust, vitamins and gold to give your face an added shine. We also recommend the use of the 24K Bio Brightening Complex Peeling Gel, designed to give your skin a polish.
Discoloration/Uneven Skin Tone
Trying to even out your skin tone can be extremely frustrating, but customers say that the OROGOLD 24K Bio Brightening Pigment Balancing Mask works wonders. For daily help, look to the OROGOLD 24K Bio Brightening Dark Spot Solution, which should be applied each night to areas that have been discolored by the sun. We also have the OROGOLD 24K Vitamin C Booster Facial Serum, designed to be used every day on damp skin, to lock in the moistured look and give your skin a much-needed boost of vitamin C.
Sun Protection
Here at OROGOLD, we are always advising you to wear adequate sun protection, and we have formulated some products that will protect you from the strongest rays. Our OROGOLD 24K Bio Brightening Dark Circle Eye Solution, as well as our OROGOLD 24K Bio Brightening Skin Moisturizer, both contain SPF 30, and will give your whole face some much-needed protection from harmful radiation.
No matter what your skin issues may be, you can be sure that OROGOLD will have you covered. Damage from the sun is the leading cause of aging, as well as skin cancer, so it is vital that this summer, you take the best care possible of your skin. If you need any extra advice, please feel free to drop into one of our OROGOLD stores and speak to a beautician about what would work best for you.