With the days now turning shorter, fall is going to be here before you know it. Whether you're ready for the cooler temperatures or not, your skin will need some time to adjust, making it important to start preparing early – here's how to properly transition your skin care routine from summer to fall.
Switch to a Thicker Moisturizer
The warmer weather triggers the skin to produce more oil, which means that the skin is then able to keep itself better moisturized. However, as the weather cools down, oil production decreases again, leaving your skin feeling unusually dry.
A richer and thicker moisturizer will help to counter this. Ideally, choose one that contains plenty of plant butters and oils, as these will help to mimic the functions of your skin's natural oils. The 24K Rose Gold Advanced Cream is perfect for transitioning your skin into fall – in addition to plant oils, it also contains vitamins, antioxidants, peptides, and humectants, giving your skin the extra care it needs to thrive.
If You Have Oily Skin…
If your skin is on the oily side, then the thought of a rich and greasy moisturizer is probably very off-putting. However, your skin still needs the extra hydration during the cooler months, which is where the 24K Rose Gold Radiant Silk Cream comes in. It contains multiple humectants, which draw moisture from the air into your skin, meaning that it hydrates and moisturizes without clogging up the pores.
Don't forget…
Applying your moisturizer onto damp, rather than dry, skin will give you much better results. This allows the moisturizer to lock in all of those extra water molecules already on your skin, meaning that they soak into your skin cells rather than evaporating away.
Head-to-Toe Hydration
It's not just the skin on your face that needs the extra hydration at this time of year – the skin on your body would benefit from this too.
If you haven't already been using a body cream, now is the time to start. Choose one that's rich, nourishing, and packed with antioxidants, such as the 24K Classic Body Butter. Its formula contains plant oils and butters mixed with soothing botanical extracts, designed to leave the skin on the body feeling noticeably softer and smoother after every use.
Cut Back on Exfoliation
The colder weather will make your skin more sensitive, which is why you should now start to slowly cut back on how often you are exfoliating your face. This is especially the case if you use a scrub, since these tend to be much rougher and more damaging than chemical exfoliants.
How often should you be exfoliating?
Twice a week is usually enough, although you may want to cut this back further to once a week if you have sensitive skin.
Choose a mild and gentle exfoliant, ideally one that doesn't cause any friction against your skin.
Don't Stop at Exfoliation
Once you're done exfoliating, don't stop your skin care routine there. Exfoliating removes the outermost layer of your skin, which then means that your skin is even more vulnerable to dryness and damage.
Make sure that you always apply either a serum or a moisturizer onto your skin after you have exfoliated. This will help to form a protective seal over the surface of your skin, giving your skin some time to regenerate its own barrier again.
Add in a Hydrating Serum
Moisturizers are a must in the colder months, but a serum can be incredibly useful too. While most moisturizers focus on the outer layers of the skin, a serum will penetrate deeper, enabling it to bring about longer-lasting improvements.
Make sure that you look for hydrating ingredients, and a blend of vitamins would be beneficial too. One serum to look into is the 24K Rejuvenating Skin Serum, which contains:
Wheat germ oil

Two forms of vitamin C

Vitamins A and E
Already use a serum?
There's nothing wrong with adding multiple serums into your skin care routine. Just use the one with the lightest consistency first.
Bring Out Your Humidifier
If you already own a humidifier but put it away for the summer, now is the time to bring it back out again.
As the weather turns cooler, the air becomes drier. This means that moisture from your skin will start to evaporate out at a much faster rate, especially if you use an indoor heating system.
A humidifier counters this by adding moisture back into the environment, therefore increasing air hydration levels.
Don't own a humidifier?
It's a great investment for the cooler months, especially if you usually end up dealing with dry skin over the winter. A portable or tabletop humidifier is usually all you need – these will usually be enough for a single room, but can easily be moved around the house during the day.
If you don't want to keep moving yours about, place the humidifier in your bedroom – the time during which you sleep is when your skin is working to heal and regenerate, making the extra moisture vital.
A humidifier that allows you to manually set the humidity level would also be a good choice. You want this to be at around 50% for optimum skin health.
Weekly TLC
Seasonal transitions can be tough for your skin to deal with, so show it some love with a weekly deep treatment. Face masks are not only a great way to give your skin some extra attention, but some relaxing downtime will also be a boost to your mental health.
Many people find that face masks simply don't do their price tags justice, but this only means that you are using the wrong mask for your skin. The right mask will leave your skin feeling totally rejuvenated as soon as you remove it, and many masks are also able to target specific skin concerns.
For example, the 24K Bio-Brightening Pigment Balancing Mask is great for those who have been left with dark spots and hyperpigmentation from the summer sun, while the 24K Rose Gold Hydro Mask provides intense hydration.
The eye area would also benefit from some extra care at this time of year – the 24K Deep Tissue Rejuvenation Mask & Collagen Renewal Mask is a great way to provide this. These masks are infused with a highly potent formula, meaning that they only need to be used on a monthly basis.
Give Multi-Masking a Try
Can't decide which face mask to use?
You don't have to! Multi-masking is a technique that makes use of multiple face masks in a single session.
How?
There are a few ways of going about this:
Apply different face masks to different parts of your face, so that you can target various issues at the same time. For example, use a clarifying and detoxifying mask on your forehead if you are prone to acne there, but then use a hydrating mask on dry cheeks

Layer your masks over the top of each other, beginning with the thinnest and lightest, and ending with the thickest

Apply your face masks one at a time, moving on to the next after the previous one has been rinsed or removed
Consider a Facial Oil
If you already have dry skin and are dreading the parched feeling that winter brings, now is a great time to try incorporating a facial oil into your skin care routine.
There are many facial oils out there, but a pure plant oil can sometimes be more beneficial. Rose hip oil is a good example – it hydrates, moisturizes, and brightens, while also treating sun damage and increasing collagen production.
The debate over whether a facial oil should be applied before or after a moisturizer is always going to be on-going, so experiment with both to see which works best for you. Alternatively, you could always mix a small amount of your facial oil with your moisturizer before applying it to your face.
Don't Forget About Your Lips
Remember those dry and chapped lips you were dealing with last winter?
They're about to make a comeback, unless you take preventative steps…
The skin on your lips is extremely thin, and doesn't actually contain many oil glands. This means that your lips can often struggle to keep themselves moisturized, especially when faced with cold temperatures, bitter winds, and dry air.
Taking the time now to hydrate and nourish your lips will give them better resiliency once the cold weather hits. You can do this with a moisturizing lip balm, such as the 24K Renewal Lip Balm. Its humectants and plant butters/oils hydrate and moisturize, while its vitamins and antioxidants will support and strengthen the skin on your lips, leaving your lips smoother and fuller.
Lip Exfoliation
Exfoliating your lips can also help, but don't do this too often – just like your skin, your lips will be more sensitive and vulnerable to damage in the cooler months, so you need to be as gentle as possible with them.
How should you go about exfoliating your lips?
Use a clean toothbrush and gently rub it over your lips. This will remove dead skin cells and dry skin, while also stimulating circulation.
Stick with the Sunscreen
Think you can put your sunscreen away because you're no longer spending much time in the sun?
Think again…
The sun can still cause a serious amount of damage in the winter, especially since your skin is more vulnerable at this time of year. Snow and water also reflect the sun's rays, bouncing them around and increasing your UV exposure.
Sunscreen is something that you should be wearing year-round, so don't make the common mistake of putting it away once fall arrives.
Eat More Seasonal Foods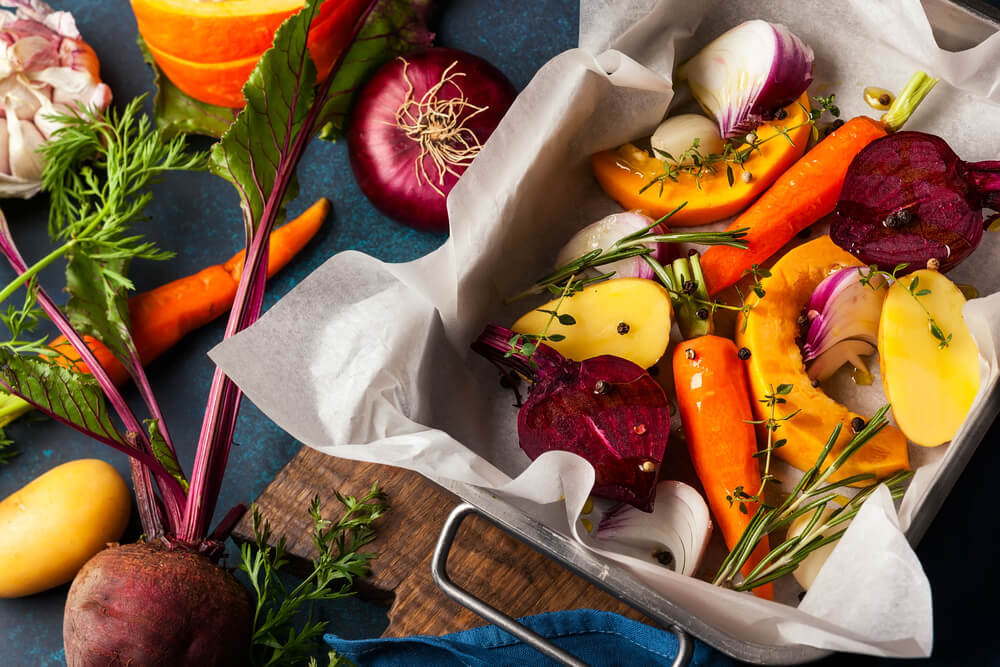 Your skin needs specific vitamins, minerals, and antioxidants at this time of year, in order to prepare itself for the onslaught of the colder season. While providing these topically is important, ensuring that your diet contains enough of these nutrients will mean that your skin cells are being nourished from within.
Many people don't realize that seasonal foods usually contain the nutrients that the body needs at that time of year. When it comes to fall foods and your skin, the ingredients you want to be eating more of include:
Carrots – packed with beta-carotene, which the body converts into vitamin A – one of the most powerful anti-aging skin care ingredients there is
Pumpkin seeds – high in zinc, which speeds up skin cell renewal, giving you a brighter complexion
Beets – full of anti-aging vitamins and magnesium
Cranberries – a powerful anti-inflammatory
Apples – one of the most antioxidant-laden foods available, while also being a good source of the B vitamins, which can help with irritated or acne-prone skin
Brussel sprouts – a great source of vitamin C, which can help with everything from wrinkles to dullness
Cauliflower – packed with folate, which can increase skin moisture levels and encourage cell division
There are several changes that take place in your skin as the seasons transition each year, making it important for your skin care routine to also be adjusted. Your skin will be feeling less hydrated, more sensitive, and much more vulnerable as the weeks progress, so make sure that you take the necessary steps to keep your skin at its healthiest for the rest of the year.