With spring break quickly approaching, your feet are going to be on show, making now the perfect time to begin giving them some extra attention. From an easy at-home pedicure to the best method of exfoliation, these tips will help you to get pretty, sandal-ready feet just in time for spring.
Exfoliate Rough Patches
After a winter of being kept hidden away within socks and close-toed shoes, you are bound to find a few patches of dry skin on your feet. Exfoliation is the best way to have these looking and feeling smooth once again, and a simple pumice stone and foot lotion is all you need. This can be used every day, after soaking your feet in warm water, although be sure to apply less pressure on more sensitive parts of your feet, and more on calloused areas. As soon as you are done, rub a foot lotion over your feet, so that these dry patches that you have just exfoliated are able to soak up some moisture.
Keep Nails in Shape
While you may not have your feet on display enough yet to warrant regular professional pedicures, a weekly at-home pedicure will help to keep your feet and nails in shape, preparing them for spring. To begin with, soak your feet in lukewarm water, as this will soften your nails, and then use an orange stick to pull out any dirt from underneath your nails. Clip your nails straight across, without cutting into the corners and without going too short, as this can cause ingrown toenails. Once done, give them a quick file before applying some polish, making sure to use a base coat first to prevent your nails from yellowing. If you plan on only doing a pedicure twice a month instead of each week, then use a top coat of nail polish too, as this will help the color last for longer.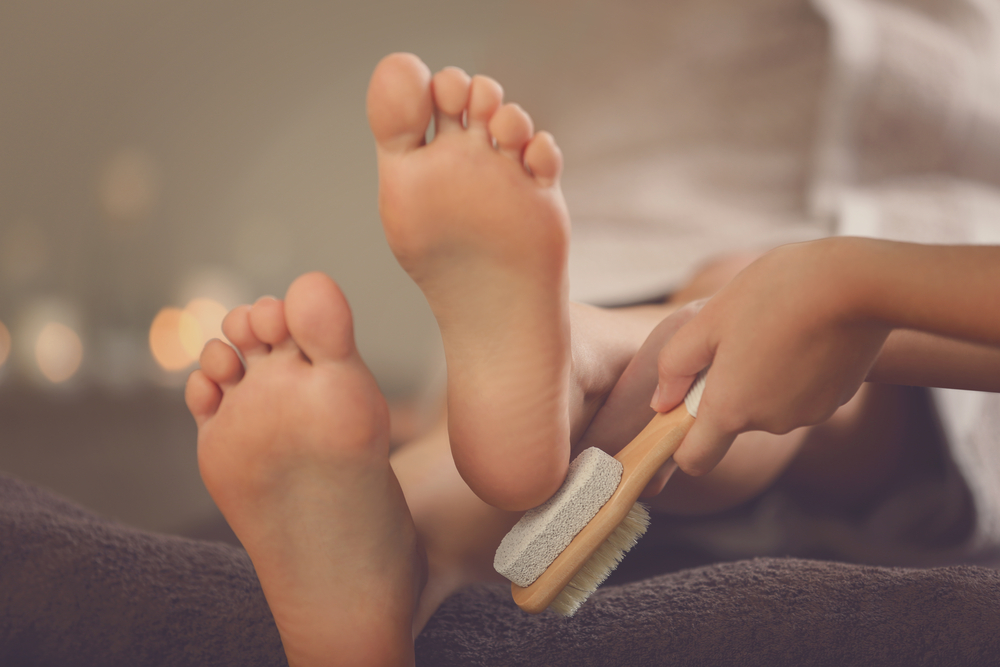 A Nail Polish Break
Even if you decide to religiously follow the above weekly at-home pedicure routine, it is still important to give your nails a break once a month, allowing them to breathe, rid themselves of toxins, and regulate healthy growth patterns. Skip the polish for a few days a month, or up to a week if you can, as this will prevent discoloration and keep your feet looking pretty.
Moisturize and Cover Up
Not only are your heels prone to over-use, but they are also covered with really thick skin, which makes it so much harder for skin care products to penetrate within. In order to avoid dry or cracked heels, dampen your feet before bed, applying a thick moisturizer before putting on some cotton socks. This will trap the moisturizer in, ensuring that the only place that it can go is into your feet.
The feet can often become quite neglected during the winter, as they spend more time hidden away than on display. However, no matter where you may be headed to for spring break, it is likely that your feet will be on show, so be sure to take these steps to ensure that they look absolutely gorgeous once spring rolls around.