Whether you have a covered porch or an apartment balcony, most outdoor living spaces end up unused for the majority of the winter months. Rather than letting this area go to waste, these tips will help you to update the space so that you can make the most of it all year-round.
A Source of Heat
A source of heat is one of the most essential features of any outdoor living space in the winter, as you are likely to not want to use it otherwise, but, fortunately, there are several different options to choose from. An electric patio heater or overhead lamps are ideal for those who do not have that much space to work with, while a fire pit is always going to be preferred by those that do. Not only do these emit large amounts of heat, and a flame over which you can cook, but they also make for a great focal point.
Lighting
With longer and darker nights, adequate lighting is another key factor of any winter outdoor living space. Lighting comes in just about every shape and size, meaning that you will definitely be able to find a piece that blends in with the rest of your décor. If you want to be able to use your lights throughout the year, it would be best to install some light fixtures, while those who want to create a tranquil, winter environment can string some lights around the space. Another option is heated lamps, which will not only provide your space with plenty of light, but also heat at the same time.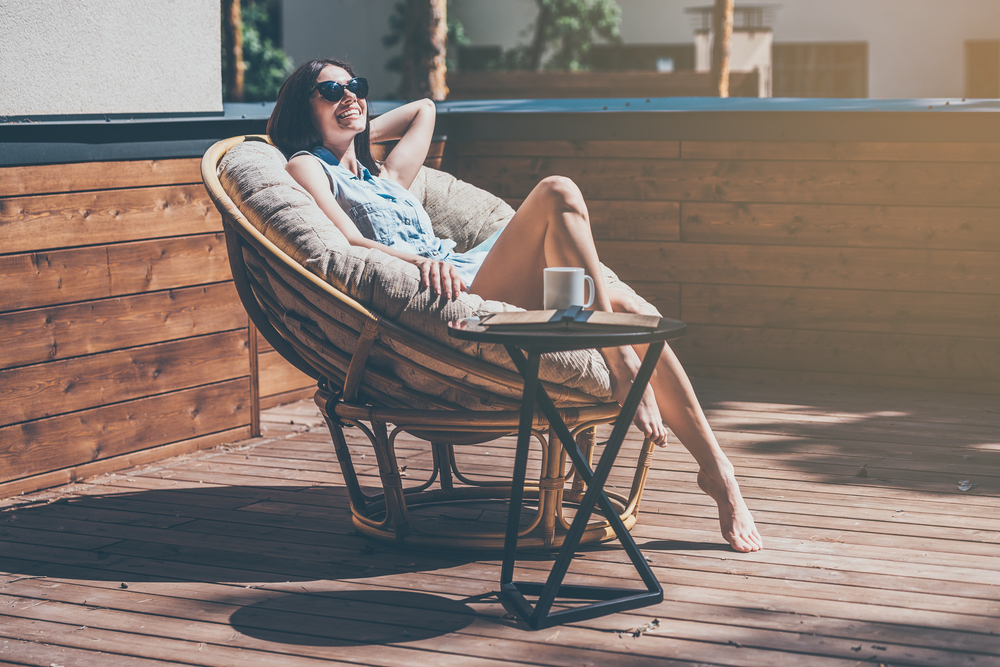 Soft Furnishings
Soft furnishings will make your outdoor living space much more comfortable, and there are many that are perfectly suited to the cold winter months. A plush outdoor rug will enable you to slip off your shoes and relax, while layered throws and cushions will make your space warm and cozy. To add some festive cheer, opt for seasonal fabrics and textiles, such as woven wintry textures, soft velvets and festive prints. If you already have chairs and tables outside and they are made from a metal, it could be worth swapping these for a material such as wicker or plastic, as metal retains the cold for much longer, and will not be comfortable in the winter.
Exterior Curtains or Panels
While an open and airy outdoor space may have been ideal for the summer months, a cold winter wind that whips its way around your body will take away much of the joy from your space. To counter this, install some curtains or panels around the exterior of your space, as these will not only act as a wind breaker, but they will also retain more heat from your heat source, while giving your space even more of a cozy touch.
There are plenty of ways in which you can update your outdoor living space to make it well-suited for the winter months, no matter what type of space it may be. From building your very own custom fire pit to stringing up rows of magical fairy lights, these tips will help you to transform your outdoor living space into a tranquil winter haven.