With Coronavirus still rife in many parts of the world, face masks have become a regular part of daily life for many people. If you've noticed that your skin seems to be breaking out more, even if you've never had to deal with acne before, you're not alone.
Maskne, which refers to breakouts and other skin issues caused by wearing a face mask, has become a very real struggle – even those who used to enjoy a near-perfect complexion are now witnessing signs of irritation and inflammation on their faces, all because of their face masks.
Face masks are probably going to be a part of your life for the foreseeable future, so rather than ignore the problem, you need to know exactly how to treat and prevent your maskne before it becomes worse.
What Causes Maskne?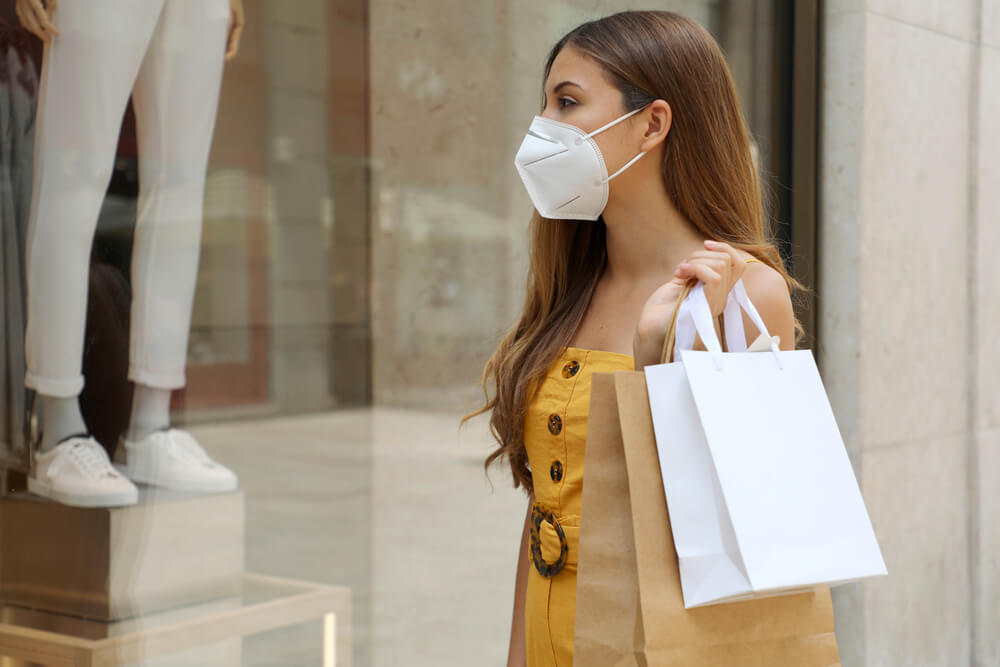 There are a few different ways in which a face mask contributes to acne…
The first comes down to the way in which a mask is constantly rubbing against your skin. Over time, this causes tiny, micro-tears in your skin – so small that you won't really be able to notice them.
However, while they may not look like much, these micro-tears can be devastating for your skin – they allow bacteria and dirt to penetrate into your skin much deeper than they otherwise would have. These impurities then enter into your pores, clogging them up and leading to a breakout.
All of the sweat, oil, and dead skin cells that your mask traps into your skin contributes to this too, since your mask will be pushing them deeper and deeper into your skin.
The fact that you are continuously breathing into your mask doesn't help either…
As you can probably imagine, this quickly creates a very warm, humid, and moist environment underneath the mask, meaning ideal conditions for bacteria to thrive.
Other Skin Issues Caused by Face Masks
In addition to maskne, your face mask could be to blame for some of the other skin issues you may have been dealing with lately, such as:
Rosacea – prolonged heat, combined with stress, can quickly cause rosacea to flare up
Allergic Contact Dermatitis – this may seem like a strange condition to be caused by a face mask, but many masks actually contain chemicals that can trigger allergic reactions
Folliculitis – this is when your hair follicles become infected by bacteria and yeast, both of which thrive under a face mask
Don't worry, it's not all doom and gloom…
Yes, face masks can really mess with your skin, but there are several steps that you can take to treat and prevent maskne, as well as any other mask-related skin concerns that may have arisen.
Invest in Natural, Breathable Fabrics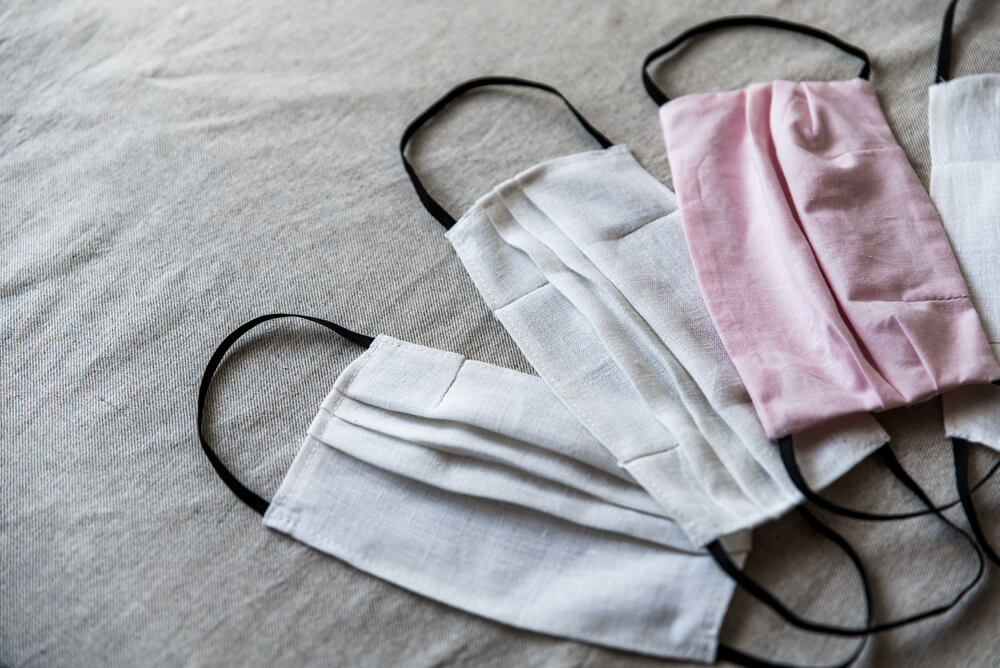 Before tackling your skin, let's take a look at the mask you are using…
With so many people now purchasing face masks, companies have responded by creating masks in an incredible array of colors and styles. While you may be tempted to choose a mask based on how it looks, there are more important things that you should take into consideration first…
Ideally, you want to be wearing a mask that has been made from a natural and breathable fabric, such as a washable silk or an organic cotton. These will not only allow prevent too much heat from being trapped against your skin, but the texture of the fabric will be smoother and softer, meaning less friction each time it rubs against your face.
Many commercial masks have also been treated with chemicals, such as formaldehyde. While many people don't react to this, those who already have sensitive skin will likely notice an increase in irritation when these chemicals are left to touch your face for a prolonged period of time. For this reason, an untreated fabric would be best.
Wash Your Mask After Each Use
Even if you invest in the best quality fabric you can find, this won't make much of a difference to the health of your skin if your mask is dirty. Each time you wear your mask, dirt, oil, dead skin cells, sweat, and more end up sticking to the fabric of the mask.
Placing a dirty mask onto your skin will expose your skin to all of those impurities, with the mask pushing them even deeper in. This is why it is so important to wash your mask after each use. If you are not able to do so, invest in two or three different masks, so that you're not constantly washing the same one.
What Are You Washing Your Mask With?
You may not have previously noticed that your laundry detergent is causing your skin to itch or turn red, but this may have been because you never used to wear fabrics against your face. Since your face is much more sensitive than the skin on your body, you may only now be realizing that your laundry products are causing a reaction.
Most of the time, this is down to the fragrances used in detergents, which can be avoided by going for an un-scented product. Of course, there are several other chemicals also included in laundry products, so it may also make sense to go for a more natural formula too.
Make Sure That Your Mask Fits Properly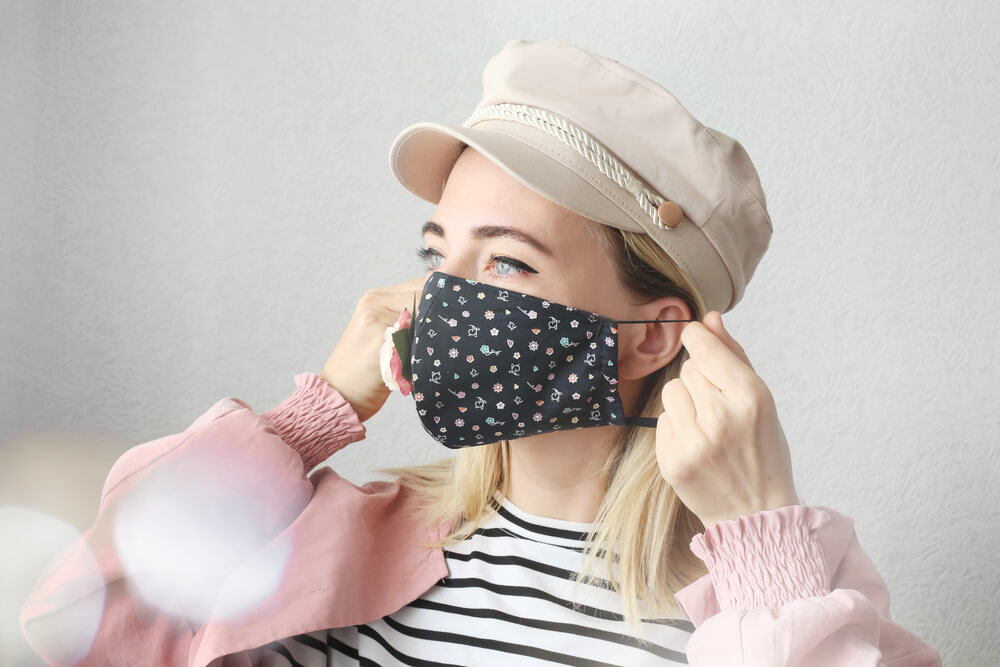 In order to be effective, your face mask needs to cover both your mouth and your nose. While most masks are usually one-size-fits-all, everyone knows that facial shapes and sizes vary drastically, meaning that your mask will likely need to be adjusted in order to properly fit your face.
Why does this matter?
Because an ill-fitting mask will rub and chafe against your skin. This can happen with both masks that are too loose or too tight.
Make sure that your mask can easily be adjusted – designs with ties are best for this. Some masks also have a more flexible piece of fabric that runs across the bridge of the nose, which is great for preventing it from rubbing against your nose.
Always Wash Your Face Before and After Wearing Your Mask
As mentioned, many of the mask-related skin issues out there are caused by the bacteria and dirt that end up trapped beneath a mask, meaning that the only place for them to go is deeper into your skin.
Washing your face before putting your mask on will ensure that your skin is as clean as can be, meaning no extra bacteria hanging around that would have otherwise multiplied underneath your mask.
Cleansing after removing your mask is key too – any dirt, oil, and dead skin cells that have built up on the surface of your skin throughout the day can be rinsed away, preventing them from causing additional problems.
Choose a Gentle Cleanser
Since your skin is already going to be more sensitive when you've been wearing a face mask, it's important to make sure that you use a gentle cleanser. Anything too harsh will only exacerbate the irritation that you are feeling.
Plus, with all of that extra cleansing you're going to be doing, you don't want to end up over-cleansing either – this can lead to a long list of additional skin problems, while making your existing ones so much worse.8
Ideally, pick a product that has been formulated with plenty of soothing and healing ingredients too. The 24K Vitamin C Facial Cleanser is a great example – in addition to gently cleansing, it also contains calming ingredients, such as aloe vera, along with powerful vitamins that will promote skin cell repair while helping to strengthen your skin in the long run.
Avoid Wearing Makeup Underneath Your Mask
Heavy contouring has had its moment – it's now time for the eyes to shine. Since the eye area is really the only part of the face that can be seen when a face mask is worn, this makes perfect sense, making it no surprise that the eye makeup industry is really booming now.
However, there will still be times when you take your mask off outdoors, which is why many continue to pile on the face makeup products underneath their masks. Unfortunately, this is likely to clog up your pores pretty quickly, especially if you are going to be wearing your mask for long periods of time.
Don't want to go makeup-free?
Try to pick makeup formulas that are as light in consistency as possible instead, and don't be heavy-handed when it comes to application. If you don't need too much coverage, you may be able to skip the makeup altogether and go for a tinted moisturizer instead.
Keep in mind that wearing makeup under your mask may also end up staining your mask, making it harder to properly clean.
Keep Your Face Moisturized
You may think that moisturizers will only exacerbate your maskne, but this couldn't be further from the truth…
Not only will a moisturizer help to keep your skin hydrated, but it will also provide a lubricated barrier between your mask and your skin. This will help to cut back on friction and chafing each time your mask rubs against your skin, leaving you with a much healthier and happier complexion.
For those who usually have dry or sensitive skin, a rich and thick moisturizer is the way to go. If you already have oily or acne-prone skin, then you need to be a little more careful when choosing a moisturizer – look for something that doesn't contain any comedogenic ingredients, which means that the product won't clog up your pores and contribute to breakouts, such as the 24K Rose Gold Radiant Silk Cream.
Don't be tempted to skip the moisturizer if you have oily skin – oil is totally different from water, and water is what your skin needs in order to thrive. In fact, a lack of water in your skin can actually trigger your skin into producing even more oil to over-compensate, which will only make your maskne issues worse.
Use a Clay Face Mask Weekly
While your fabric face masks may be causing your skin issues, a clay face mask could help to solve them.
How?
Because clay has absorbent properties that enable it to effectively remove sebum, impurities, and toxins from the skin, not only from the skin's surface but also from deeper within the pores. As you now know, keeping your pores clear is key when it comes to treating and preventing maskne.
There are several types of clay out there and while they each have their own individual benefits, they are pretty much all great for detoxifying the skin. However, bentonite is the one that has been studied most extensively, and there is plenty of research out there backing up just how powerful this clay is.
For added benefits, go for a mask that contains multiple types of clay, such as the 24K Advanced Facial Mask. In addition to both bentonite and kaolin, this formula is full of healing and strengthening ingredients – everything your skin needs to protect itself from maskne.
The only time to be wary of clay masks is if you have areas of your skin that are extremely dry or sensitive…
One way to get around this would be to only apply a thin layer of the mask onto those areas, rinsing it off before it actually dries.
Alternatively, you could give multi-masking a try – a technique that involves using different face masks on different areas of your face, so that you can individually tend to multiple skin concerns at the same time.
Having to regularly wear a face mask can really mess with your skin, making it important to understand how to deal with and prevent all of these new issues that may be arising. Since face masks are probably going to be around for quite a while still, taking control of your skin now will help to prevent your problems from becoming even worse in the future.