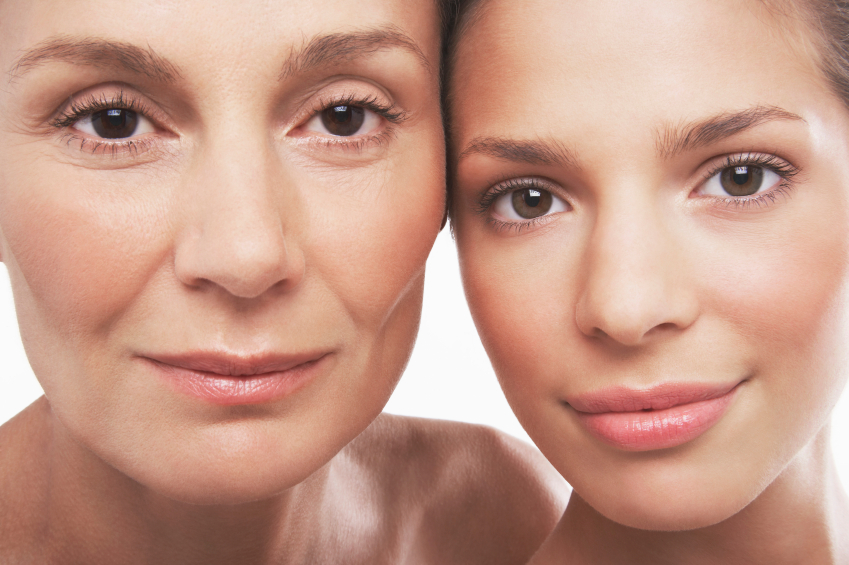 Every woman wants the luxury of looking younger than they actually are. From the time a woman hits her thirties, it seems as though she will try anything to turn the clock back – at least on her skin. Today, OROGOLD reviews  tips on how you can look younger at any age, whether you are in your 30's, 40's, or older.
Thirty –Something's
Women in their thirties can benefit from many positive actions which can slow down the aging process and withhold the appearance of fine lines and wrinkles. The following is a list in which all women in their thirties should follow to ward off those pesky, unwanted visitors:
Incorporate more exercise into your daily routine. Exercise is important to the rejuvenation of new skin cells, and collagen. It is also important for proper blood flow and supply, which in turn sends more oxygen to the skin cells and tissues, allowing for new and healthy skin cell growth.
Drink more water – drinking water will keep you hydrated, allowing your skin to retain more moisture and thus giving you a healthier glow.
Be sure to take care of all of your skin with a good moisturizer or lotion, not just your face.
Use products which contain retinoids to decrease the appearance of fine lines, discolorations, and wrinkles.
Cleanse your face every night before bed to ensure your makeup is completely removed. Studies have shown going to bed with your makeup on can age your skin by up to two days per every night you wear makeup to bed. This is a startling finding being that two-thirds of women wear their makeup to bed every night!
Get plenty of sleep every night – they don't call it beauty sleep for nothing!
Be sure to exfoliate your skin on a regular basis, as this cleans the dead skin cells from the surface of our skin, allowing fresh new cells to move into their place.
Forty-Something's
Women in their forties are more likely to see signs of aging, and should take pro-active measures to ensure they are able to stop the clock, so to speak, on aging while they still can. You can try one, most, or all of the following helpful tips to bring the life back to your skin, and protect your skin to the best of your ability. As these are pre-menopausal years, proper skin care now can help you to look fantastic in your menopausal years.
Don't be afraid to seek the help of a dermatologist if you need to. They can provide you with prescription products to target areas which may be damaged or problematic.
Use a good facial cleanser and moisturizer containing glycolic acid for removal of dead and old skin cells, bringing forth fresh, new skin, and therefore giving you a more youthful appearance. Hydrating your skin is key in keeping a fresh appearance.
Be sure to get adequate sleep every night. As mentioned in the thirty-something category, getting a good night's sleep can help your skin to renew itself and appear healthy and rested.
Exfoliate your skin often to stimulate the growth of new skin cells. In your 40's, your skin cell growth can slow down, and slows down even more so in your later years.
In Your 50's and Beyond
In your fifties, it's exceptionally important to pay attention to proper skin care techniques. Even if you have never cared much about caring for your skin before, now is the time to really pull in the reigns and get a good grasp on caring for your skin. It is during this decade where your skin will really begin to show your age. With proper skin care methods in place, you can actually slow down the appearance of aging skin. During these years, your elastin and collagen levels are minimal, and you can reverse this by incorporating products meant for your age group into your daily regimen.
Use a gentle, creamy cleanser in the morning when you wake up to hydrate your face and neck area. Follow that up with a good moisturizer containing Vitamin C and sunscreen. Keeping your facial and neck area well moisturized will ensure you do not have to suffer from dry skin, which can cause your skin to take on the appearance of more wrinkles.
Always use a strong sunscreen when in the sun for prolonged periods of time to avoid age spots and skin damage.
Use a good facial mask or lifting mask, such as Oro Gold's DMAE Anti-Aging Concentrate Lifting Serum which works exceptionally well to firm and tone the skin, and also helps to diminish the appearance of fine lines and wrinkles for a look you will never thought possible in your older years.
Exfoliate your skin 2-3 times per week to jump start the skin cell growth process, which slows down as you age dramatically.
Always remove cosmetics before bed. This is imperative to avoid premature aging and to keep the skin fresh and able to breathe.
When your Skin is Happy, You're Happy
By implementing these methods into your daily and nightly routine, you can reverse the signs of aging dramatically, and we are sure you will be thoroughly happy with the results you receive. Here's to beautiful skin that will last you a lifetime.