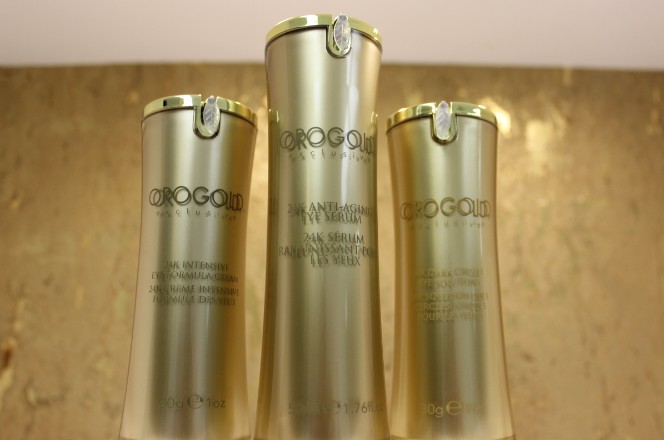 The skin on your eye area requires a more potent product because the skin in that area is thinner than the skin on the rest of your body. Your eye area also requires special attention because it is extremely delicate. This makes it susceptible to a number of issues such as wrinkles, dark circles, fine lines and puffy eyes. The OROGOLD 24K Exclusive Eye Care Collection helps you to take care of the eye area by offering you an exciting range of products that can transform the way your eye area looks. Using the Eye Collection also allows you to deal with the signs of aging and ensure that your eyes look young and beautiful. Check out the Eye Care Collection Infographic for more details.
Vitamin A – Vitamin A is one of the best and most powerful wrinkle fighters in the world. It helps you to reduce the appearance of wrinkles, smooth out the rough edges and fade your brown spots. There are more than 700 published studies that describe the various benefits that Vitamin A has to offer.
Caffeine – Caffeine is used in skin care because it contains certain antioxidants that can beef up your complexion and make your skin look younger and healthier. Furthermore, caffeine can also reduce inflammation in your skin, thereby making it useful in creams and serums that target the appearance of sagging skin and dark circles.
Allantoin – Allantoin is a natural chemical compound that works as an anti-irritant and a skin protectant. This ingredient offers your skin with natural soothing benefits and it also helps to increase the water content of your extracellular matrix. Other benefits that allantoin has to offer include increasing skin smoothness, promoting the healing of wounds and promoting cell replication.
Palmitoyl Oligopeptide – Palmitoyl Oligopeptide is a highly effective anti-aging ingredient that acts as a building block between the amino acids. It assists the skin in its renewal and repair process and it also works wonders in increasing the collagen and elastin production in your skin.
The Products
24K Intensive Eye Formula Cream – The 24K Intensive Eye Formula Cream diminishes the appearance of puffiness from your eye area and fine lines from the eye area. Use the product as a part of your daily skin care routine to enjoy a younger and fresher look in the long run. All you need to do is gently apply a little bit of the product on the skin around your eyes and massage gently.
24K Exclusive Anti-Aging Eye Serum – The 24K Exclusive Anti-Aging Eye Serum gives the skin on your eye area a firm look and it also goes a long way in reducing the appearance of issues like crow's feet. Use the product on your deep lines as a part of your daily skin care routine. For best results, use the product at night.
24K Exclusive Dark Eye Solution – The 24K Exclusive Dark Eye Solution illuminates the eye area and makes your face look brighter and younger. It also goes a long way in eliminating the appearance of dark circles. You need to apply the product as a part of your morning skin care routine on the skin under your eyes. Follow up with the 24K Exclusive Anti-Aging Eye Serum for best results.