LED technology has had a place in the beauty industry for years through professional salon services; but now with Jelessi, LED skin care devices can be easily used in the comfort of the home. Each device harnesses the power of LED technology to improve facial, neck and chest skin tone and texture.
This Collection Is…

Photonix-3 Neck Solution
With clean skin, apply your favorite neck care product. Activate the ring sensor on the device and place it against your skin. When the device begins to pulsate, select your prefered mode and massage the skin in upwards movements until the product has dissolved. Turn off the device and clean with a soft cloth before putting the protective cover back on and storing in a cool, dry place.
Advanced and safe to use technology for the latest in skincare. This device comes with two modes: Massage Mode which helps promote the production of collagen and elastin and Magnetic Heat Lifting Mode which helps stimulate the growth of fibroblasts that help smooth out fine lines in the delicate area of the neck and chest.
Product Size: 91 x 48 x 110mm
Working Voltage: 3.3V – 4.2 V
Standby Current: ≤60 ± 10% μA
Battery Capacity: 650 mAh
Massaging Mode (First Gear)
Vibration Frequency: 6200 times/min
Working Current: 70 ± 10% mA
Power: ≤ 0.3 W
Magnetic Heat Lifting Mode (Second Gear)
Vibration Frequency: 9500 times/min
Working Current: 680 ± 10% mA
Power: ≤ 2.8 W
Temperature: 45 ± 5 °C
Magnetic Heat Lifting Mode (Third Gear)
Vibration Frequency: 12500 times/min
Working Current: 700± 10% mA
Power: ≤ 3 W
Temperature: 45 ± 5 °C
Net Weight 67g
Charging Time 2 Hours
Torchē V2+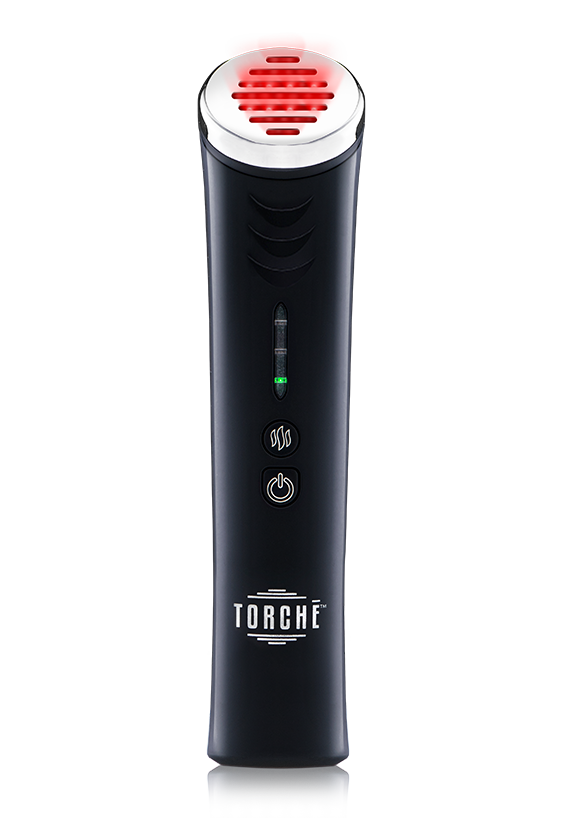 After cleaning and drying your face, press the ON/OFF button to turn on the Torchē V2+. Press the HEAT button and once warm, hold the device firmly against your skin and massage in circular motions over the face and neck areas for 5-7 minutes per area. For better results, use 3 times a week for the first 3 weeks. For maintenance, use once a week after the initial 3 weeks.
Using LED infrared technology will make take your skincare routine to a whole new level. It helps diminish the signs of aging around the face and neck area while boosting the skin's collagen production and blood circulation. Jelessi's light therapy technology treats fine lines, wrinkles and discoloration.
Rated voltage (adapter): AC100-240V
Rated frequency (adapter): 50/60Hz
Rated current (adapter): 100mA (max)
Maximum output power: 6W
Type of heat source and number: 9 infrared lights, 16 Red LED lights
Design principle: LED heating therapy
Wavelength: 633+-5nm, 830+-5nm
Therapeutic temperature range: 41+-2C/ 105+-35F
Storage condition: Temperature: -10C go 60 C/14 F to 140 F
Relative humidity: 5%-95%
Operating condition temperature: 15C to 35 C/59 F to 95 F
Relative humidity: 10%-80%
Atmospheric pressure: 700 to 1060 hPa
Lithium ion battery: Max charging time: 6 hours
Treatment area: 17 cm2
Weight: 265 g
Rating input: 10Vdc 4.2W
Battery: 7.4Vdc 1050mAh
Product Size: 20X4.6X4.3cm
Photonix -2 Jade Eye Wand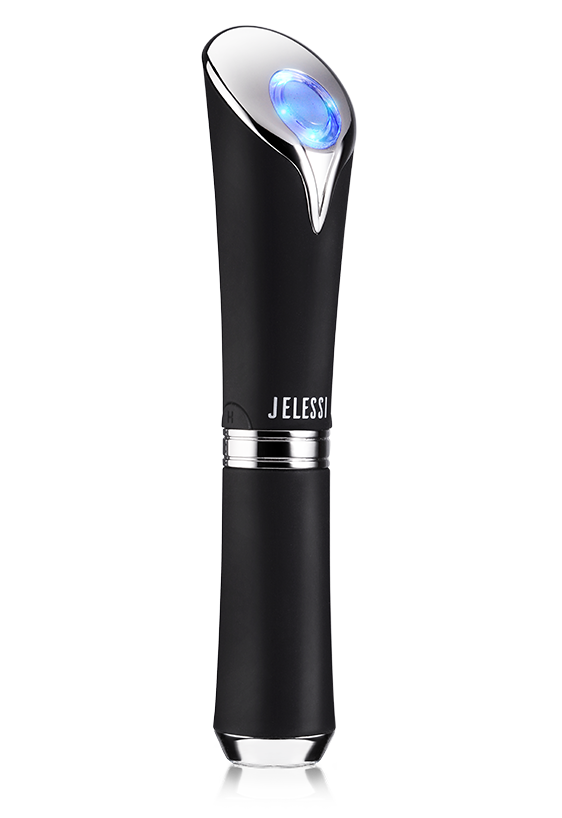 After cleansing and drying your face and applying a serum, turn on the Photonix 2 Jade Eye Wand on the left button to activate The Magnetic Heat Lifting mode. After it turns on wait for a minute until it heats up to 107°F and move the wand around the contours of your eyes for 5 to 7 minutes.
After this, clean the wand with a cloth and proceed to Mode Two.
Click on the right button to activate Blue Relief mode. If you press it once, it actives only the blue light and vibration. If your press twice, you also activate positive ions while moving the wand around the contour of your eyes.
The Jade Photonix – 2 Jade Eye Wand is a unique two function wand that helps reduce puffiness around your eyes. Mode One or Magnetic Heat Lifting mode, uses a red light that stimulates the production of collagen. Mode Two or Blue Relief mode will help reduce puffiness while eliminating toxins.


Item: SY-026
Weight: 60g
Power: 3W
Battery: 400mA/H Polymer LP
Torchē V2+ Amber Light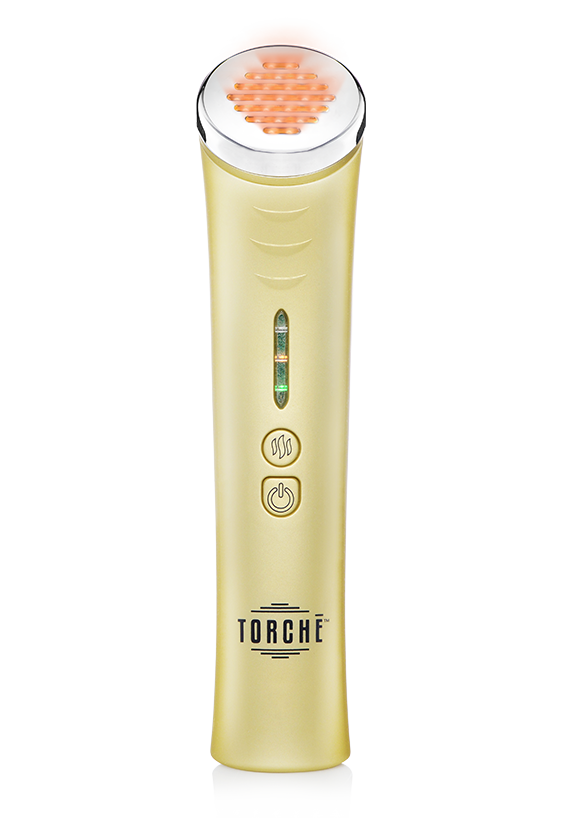 Apply the Torchē V2+Amber Light directly onto dry and clean skin. Massage in gentle circular motions while applying light pressure for 3 to 5 minutes on each treatment zone. Use the Amber LED + Amber Led with heat 4 to 5 times a week for best results. Follow up with your favorite serum or moisturizer.

Revive your skin's bright look and supple feeling with the Jelessi Torchē V2+Amber Light. This amazingly innovative technology targets signs of redness, reduces the appearance of pores, and diminishes the look of brown spots with its efficient yet gentle light treatment.
Rated voltage (adapter): AC100-240V
Rated frequency (adapter): 50/60Hz
Rated current (adapter): 100mA (max)
Maximum output power: 6W
Type of heat source and number:
23 Amber LED lights
Design principle: LED heating therapy
Wavelength Ranges: 580+-5nm,
605+-5nm, 635+-5nm
Therapeutic temperature range: 41+-
2C/ 105+-35F
Storage condition: Temperature: -10
C go 60 C/14 F to 140 F
Relative humidity: 5%-95%
Operating condition temperature: 15
C to 35 C/59 F to 95 F
Relative humidity: 10%-80%
Atmospheric pressure: 700 to 1060
hPa
Lithium ion battery:
Max charging time: 6 hours
Treatment area: 17 cm2
Weight: 265 g
Rating input: 10Vdc 4.2W
Battery: 7.4Vdc 1050mAh
Product Size: 19.8X4.5X5.96cm